Gold Leafs Earrings
Gold Leafs Stud Earrings, עלה זהב צמוד.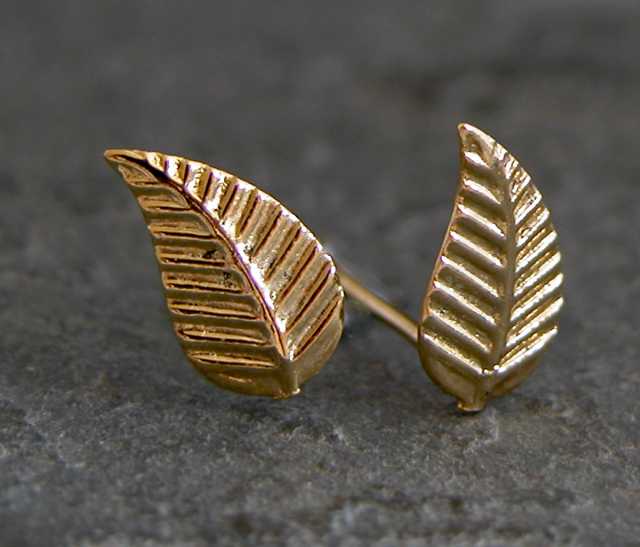 Rating: Not Rated Yet
Price:
Variant price modifier:
0
Description
These exquisite, 22k gold plated, brass stud gold earrings are shaped as delicate leaves to stimulate in the wearer an awareness and a closeness with nature.
The gold earrings are part of a special fall collection and are 1cm. in size.
Payment and Shipping Info:
¨¨¨°º♥º°¨¨¨¨¨¨°º♥º°¨¨¨¨°º♥º°¨¨¨
I currently take PAYPAL ONLY. (Sorry, no exceptions.)
I ship worldwide.
Once payment is cleared, orders are usually ready for shipping within 1-2 business days
Shipping is via international registered Air Mail and usually takes between 7–14 business days from shipment to arrival.(this is the average, although some packages may take longer for no apparent reason - the mail works in mysterious ways).
If you need this item sooner, express international shipping (EMS) is available upon request - please contact me for details.
עגילי עלים צמודי אוזן בעיצוב אביבי עדין.
העגילים עשויים פליז ומצופים בזהב 22 קראט.
גודל העגיל :1 סמ.
העגילים ישלחו בדואר רשום, באריזת מתנה מעוצבת. בתוך 2-3 ימי עסקים.
בכל שאלה או בקשה אתם מוזמנים לפנות אליי: 052-2455306 ,info@gazellejewelry.com
אשמח לעמוד לשרותכם!
Thank you For stopping By
Gazelle jewelry