Venus, gold Seashell Pearl Ring
Hand Made gold Seashell Ring With White pearl ונוס-טבעת זהב ופנינה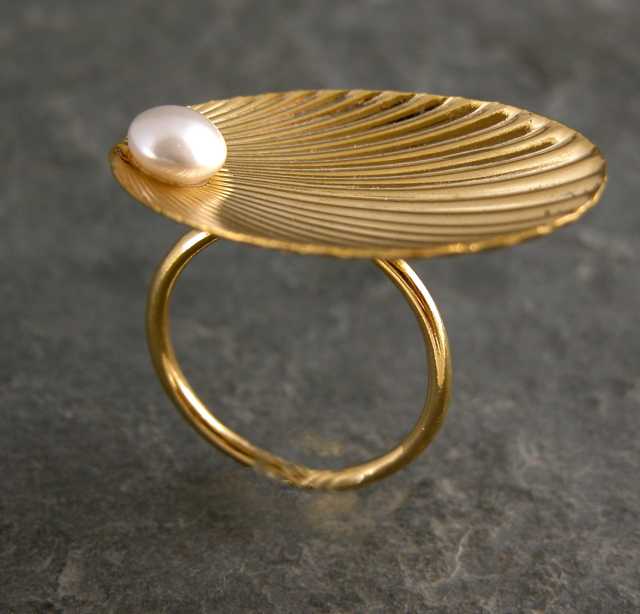 Rating: Not Rated Yet
Price:
Variant price modifier:
0
Description
Hand Made gold Seashell Ring With White pearl.
Inspired by the Sea World and Ocean life .
This stunning Seashell designed Ring symbolize my love to the sea and the sea life.
Hand Made from gold plated brass with beautiful white pearl
Size: 5, 6, 7 ,8,9.
Or can be made to order in any size.
Please note your desired size in the message to seller area at checkout.
Seashell Dimensions: 3/2 cm (1.18/0.78")
This ring comes in a beautiful gift box. Each ring is made to order, so each one is a bit different.
Payment and Shipping Info:
¨¨¨°º♥º°¨¨¨¨¨¨°º♥º°¨¨¨¨°º♥º°¨¨¨
I currently take PAYPAL ONLY. (Sorry, no exceptions.)
I ship worldwide.
Once payment is cleared, orders are usually ready for shipping within 1-2 business days
Shipping is via international registered Air Mail and usually takes between 7–14 business days from shipment to arrival.(this is the average, although some packages may take longer for no apparent reason - the mail works in mysterious ways).
If you need this item sooner, express international shipping (EMS) is available upon request - please contact me for details.
עיצוב בהשראת רנסאנס רומנטי בסגנון וינטג'.
טבעת בעיצוב צדפה משובצת בפנינה לבנה.
ניתן להזמין במידות S,M,L,XL
בצבע לבן ,שחור או ורוד.
גודל האלמנט: 2.8 סמ.
הטבעת תשלח בדואר רשום, באריזת מתנה מעוצבת. בתוך 2-3 ימי עסקים.
בכל שאלה או בקשה אתם מוזמנים לפנות אליי: 052-2455306 ,info@gazellejewelry.com
אשמח לעמוד לשרותכם!
thank you for stopping by !
Gazelle jewelry